Calibration: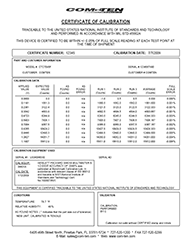 International standards recommend to calibrate your equipment once a year. Heavy usage or company policy may necessitate more frequent calibration. We have a fully equipped laboratory that is capable of providing quick turnaround on force and torque calibration.

All our equipments (new or re-calibration) are calibrated with our own standards and includes a certificate, showing 5 points in each direction, traceable to NIST (National Institute of Standards and Technology).

A certificate of calibration following the ASTM E74 is availble upon request. This certificate includes 3 runs of 10 points in each directions. Example of certificate

To get your equipment calibrated, ship it to the address below. Be sure to include a contact name and number. Contact one of our sales engineers for calibration pricing.
Shipping address:
Com-Ten Industries
ATTN: Calibration Dept
6405 49th Street North
Pinellas Park, FL, 33781
USA